Oskalungamultisport won the first stage of the Adventure Camp
With a small advantage, the team Oskalungamultisports Rafael Melges, Diogo Malagon, Soledad Omar and Frederick Gal, secured the first title of Adventure Camp, on 14/03/2010. Focused in the title of the circuit, the team completed the 49 kilometers in 3h05min.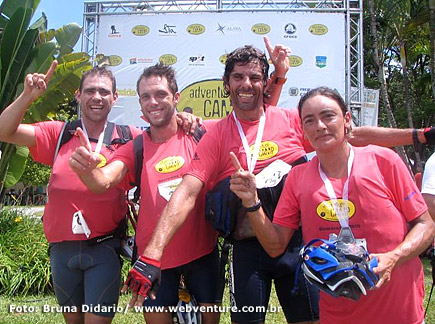 The proof, according to team members, was a lot of resilience, because they were behind the Quasar Lontra, who led much of the race. "Stick a tire and just what was without a replacement. All passed, but we saw the others at the end of a climb. The Quasar Lontra has a large advantage but but we reached that team", said Rodrigo.
About the 49 km from the proof of the Pro category, Rafael, very excited and pleased with the outcome, said that although fast, was very difficult. "The course was fantastic, difficult to navigate. Still, no one was wrong. We did so, but so hard, now was worth", said Melges.
Lico and Soledad, who completed the team, did not hide the happiness. "I competed yesterday in XTerra and came second, won here today. But the difficulty was not know much about the race, the boys had to take. But it was fun, thanks for the fans", said the Argentine.
Second Place - Team Santa Fe Adventure Center held the second position, 8 minutes behind the champions. "Proof too fast. We was very conservative and it take 5 minutes. We had to accelerate, we found Quasar only in the end, find difficulty to find the tunnel, but it was very good", said John Bellini, a member of the team.
The third position went to the Quasar Lontra, who led much of the proof and had problems and the fourth Santa Constancia Quasar Lontra Master.
(Source: http://webventureuol.uol.com.br)